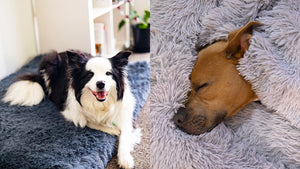 What Are The Benefits of an Orthopaedic Dog Bed?
Orthopaedic Dog Bed Benefits
How often do you see your dog running in their dreams? Are they chasing butterflies? Running from a monster? Or just training to be the best at fetch? Dog's can be a mystery but what we do know is that dogs sleep, and they sleep a lot. 
Did You Know… Dogs Sleep Up to 20 Hours a day. That's a long time inside an uncomfy, unsupportive bed, each and every day.
You might not notice it, but your dog absolutely LOVES shuteye and they need it too. Which is why it is incredibly important that they have a supportive bed that not only allows them to enjoy their rest time, but a bed that supports their body while they sleep as well.
The benefits to an Orthopaedic Dog Bed are endless; They're Calming, Soothing, Pain Relieving, and so much more. A true Orthopaedic Dog Bed is the last dog bed you'll ever need.
The sad truth is that 9/10 dogs will suffer from arthritis in their lives, which is why providing a bed that can help alleviate this pain is essential. Authentic Memory Foam contours to the dogs body, providing relief to the areas most used by your dog during the day (Hips, Neck & Hock).
The issue is that there are hundreds of dog beds out there that claim to be orthopaedic and calming for your dog, yet the reality is that 95% of them are not.
So how can you differentiate between the good and the bad?
Here's some tips on what to look out for.
#1 Price Tag (if it seems too good to be true, it likely is)
Although we all wish the $20 bed from Large Corporate Retailers was the bed of your dogs dreams, it unfortunately is never the case. These beds are normally made with less durable materials, aren't washing machine safe and are often filled with extremely toxic chemicals (especially the 'Foam' beds you will see around). Unfortunately, some 'foams' have been linked to cancers and other horrible health issues for pets, and are a big no-go for pet owners.

Now this isn't meant to be a 'spooky blog piece' to say you must only buy our beds, but we just strongly recommend being very careful when picking a bed for your pet. After all, as the old saying goes… if it seems too good to be true, it likely is.
When picking a bed for your dog, it's important to pick one that is built to last, toxic free and pet-safe, rather than one you'll have to replace 1-2 months down the line.
#2 Filling (Look for Density and Loft)
Many companies that sell 'Orthopaedic Dog Beds' claim to be the saving grace for your dog, however unless they are filling their beds with genuine memory foam or a substantial amount of PP-Cotton, it is highly unlikely that the bed is providing any benefit for your dog.

Orthopaedic dog beds are meant to alleviate pressure points and provide joint support for your dog. If companies are filling their beds with scrap foam and egg crate corrugated foam, the results aren't going to be very effective.

When picking a dog bed, we recommend looking for density (how does it feel when you press down on it) and loft (does it rebound). These are 2 quick tests which will help when picking the right bed for your pet, the first time round.
#3 What Do We Recommend?
At The Brooklyn, all of our dog beds are toxin free, safe for pets and made with only durable materials, to help your pet thrive when they fall asleep.

We recommend a trusted, known to perform Memory Foam Dog Bed, such as our Ultra Memory Foam range or our Deep Sleep range (now with even more filling - so you truly can't go wrong).

The memory foam range is filled with a combination of 50% Orthopaedic Foam & 50% Memory Foam. This pet bed is designed to alleviate joint pain and have your dog sleeping deeper than ever. Featuring the same Faux Fur as made famous by our Deep Sleep Pet Bed, your dog can enjoy the Comfort of a Deep Sleep, while enjoying the benefits of Memory Foam.
We have a wide range of orthopedic dog beds to pick from, with a range of benefits.

With over 500+ Happy Reviews on Trustpilot and over 40,000 happy dogs worldwide, you truly can't go wrong with a Brooklyn.
---