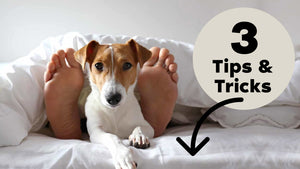 How to Get Your Dog to Stop Sleeping in Your Bed
Where does your dog sleep at night? If you're reading this blog, there is a good chance they currently take up a place on your bed.

We're all guilty of it, they're our best friends after all. However, there comes a time when independence is needed and it's time to encourage your furry pal to sleep on their own personal bed.

It should be noted that this isn't an instant fix process, and it will take time for your dog to transition happily to their new bed. Very similar to a children, your dog may whine and act frustrated in attempts to return back to your bed. It is important to hold out during this phase to teach them to use their new personal bed.
Here are some surefire tips to ensure that this process is as easy as can possibly be:
#1 Invest in a bed that will support your dog...
There are thousands of different dog beds out there that claim to be calming, orthopaedic and the best for your dog, however the reality is 95% of dog beds do not perform what they claim.

It's almost always better to invest in a dog bed from a company that solely focuses on providing better, deeper sleep for your pets; rather than a large corporate retailer that simply focuses on mass distribution of low-quality cheap items that don't last more than 2 months.

For new pet owners, we highly recommend our Brooklyn Deep Sleep dog bed. This is the most-loved bed in the country, and is the bed of choice by over 50,000 pets (and counting).

#2 Add a Familiar Scent:
It is estimated that a dog's sense of smell is anywhere from 1,000 to 10,000 times as powerful as a human's (Scent-sational!). What's even more fascinating is that your dog gets most excited by your scent in particular, likely due to the familiarity and sense of home associated with it.

A simple way to encourage your dog to begin using their new bed over yours is to place a bed sheet/pillowcase on top of their new bed. The idea behind this is that it will reinforce that their bed is your home within your home, while still having the safe scent they associate with you with them while they sleep.
#3 Create a Bedtime Routine:
We've all seen the viral videos of dogs waiting for their food, at the exact same time each night, the truth is dogs LOVE routine. It gives them something to look forward to and they find routine reassuring.
By giving them something long-lasting on their bed such as treats (i.e. edible chews) or their favourite toy to relax, you can teach them that this is their spot to rest at the end of each day.
Providing your dog with a place to rest and feel comfortable is extremely important, however we know how difficult it can be to find a bed that truly suits your dog's needs. Here at The Brooklyn we specialise in pet sleep, and I'm sure we will have a
bed
that will help keep your dog happy and your bed free of fur.
If you liked this blog, feel free to check out our latest post on "
The Benefits of an Orthopaedic Dog Bed
".
---